SWIFT DOMESTIC GOLD LEAF & ROLLS
Gold Leaf is sold by the pack, consisting of 500 leaves (20 books per pack, 25 leaves per book.) A pack of gold will cover approximately 30 square feet - including a normal amount of patching.
Prices for Gold Leaf are dependent upon the London Market. Contact our Customer Relations Department for current prices.
All gold leaf is 3-3/8" square. All 24 karat and XX Deep Gold can be used outdoors as well as indoors. Leaf should be left uncoated; it will not tarnish or be affected by sun's rays.;
24 KARAT GOLD LEAF
.9999 Pure gold leaf. Deepest in color.

23 KARAT XX DEEP GOLD LEAF
The rich color of 23 karat plus does not vary between surface, glass and patent....

XX Deep Surface Gold Leaf
Loose on tissue. We suggest use of gilder's tip for ease of application. May have some patching.

XX Deep Glass Gold Leaf
Loose on tissue. No patching. Fewer pinholes. Use gilder's tip.

XX Deep Patent Gold Leaf
Adheres to a tissue. Sometimes called transfer leaf.

21-3/4 KARAT SURFACE GOLD LEAF
"French Gold" - "Framer's 19th century"

18-1/2 KARAT LEMON GOLD LEAF
Surface, glass and patent. Lighter, more greenish in color than XX Deep.

16 KARAT PALE GOLD LEAF
Surface, glass and patent. Lighter in color than Lemon Gold.

10 KARAT SURFACE WHITE GOLD LEAF
Sometimes called silver. Has a slight tint of gold.

ROLL GOLD
23 karat Gold Leaf made into roll form, 67 feet long, and in widths from 1/8" to 3-1/8". Limited to one width per box. Perfect for flat surfaces.

SEMI-PRECIOUS LEAF AND ROLLS AVAILABLE

DOMESTIC SILVER LEAF
Purer than Sterling. This is a superior grade of fine silver leaf. Furnished in leaves 3-1/2" square. Rolls are 3/16" to 3-1/8".

ALUMINUM LEAF
Provides the color of silver at a lower cost and does not tarnish. Furnished in leaves 5-1/2" square. Rolls are 3/16" to 5".

COMPOSITION LEAF
Also known as Dutch Metal, an imitation of gold. Furnished in leaves 5-1/2" square. Rolls are 3/16" to 5".
ACCESSORIES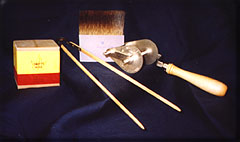 Swift accessories to help you with your gilding needs:

Gilding Wheels (variety of sizes)
Rolco Quick Size - 1/2 pt. to 1 gal.
Rolco Slow Size - 1/2 pt. to 1 gal.
Rolco Aqua Size - 1/2 pt. and pint
Scotch Sponges
Charbonnel/LeFranc Burnishing Clay 750 ml
Available in red, yellow, black
REFINING
Over the years, many of our customers have sent us their genuine gold leaf residue for reclamation of the precious metal. Since the same facilities are used for our own reclamation, you can be sure that the process is performed with care and efficiency. Please return residue to the attention of the Refining Department, and we will remit the value of the reclaimed gold minus a refining charge.